Background
Manna is based on the latest trans-disciplinary environmental research and focuses on current and "urban" food, like hamburgers and sushi. The goal is to show how the foods we eat originate from nature by using a visual, pedagogic approach to describe the food production system and the global trade system that we are all a part of.

For example, the exhibition displays a hamburger and shows that almost all of its ingredients - the tomatoes, cucumber, mustard, lettuce and the fodder plants for the beef - are pollinated by insects. The visitors are also guided back in the production chains in order to show how many hundreds of liters of water are needed to produce a single bottle of beer.


On tour since 2004
Manna was first exhibited in Stockholm autumn 2004. On request, it has continued its succesful tour to various cities in Sweden, including Gothenburg, Malmö, Örebro, Landskrona and Linköping. It was back in Stockholm again autumn 2006 at the popular market garden and café Rosendals Trädgård ("The Rosendal Garden") of the city park "The Royal Djurgården". After that the swedish version continued to the cities of Falkenberg and Härnösand.

The international version of Manna has so far been on display at the international conference "Resilience 2008" in Stockholm and then proceeded to Copenhagen for the "Copenmind conference" (September, 2008) and the "Living Green theme" of House of Sweden in Washington DC (April-June, 2009).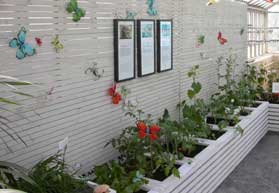 Nature: the Forgotten Chef
In our modern lifestyle, the context behind our food is becoming increasingly invisible; this is unlikely to improve given that soon over half of the world's population will live in cities. Manna wants to bring to light our dependence on nature in a time of increasing urbanisation.

The exhibition's theme is food and the environment, focusing in particular on society's dependence on "ecosystem services": the functions and processes in ecosystems that, directly and indirectly, benefit society. It is these functions in nature that ensure that plants are pollinated and crops grow; that micro-organisms recycle nutrients and break down pollutants in soils and waters; that the atmosphere maintains its gaseous composition; that the climate remains stable; that plants' roots protect against erosion; that the water cycle keeps cycling – and at the same time we get a string of aesthetic and cultural benefits.

Unlike timber and fish, many ecosystem services lack a direct economic value. It often happens that society does not become aware of their value until they are lost, and society suffers from the unexpected costs of replacing these natural processes with technical solutions.


Targets young urban people
The exhibition's main target groups are the general public and students and teachers from late primary school and upward. What we eat and how it is produced says a great deal about society's development in general, and touches upon a wide range of environmental, health, ethical, quality and survival issues. For this reason, the exhibition targets younger generations and their growing interest in, for example, farm animals' rights and global trade ethics. On top of this, there is also an increased interest among urban dwellers in sophisticated cooking focused on gastronomic experiences that are often based on "exotic" ingredients, such as giant shrimps, from far-away countries.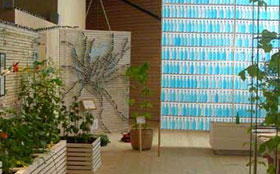 The good things in life
Food also represents one of "the good things in life"; it provides new flavours and brings people together. The exhibition also addresses these aspects of food. By setting up an aesthetically inviting exhibition with an artistic interpretation of the subject, the aim is to awaken visitors' curiosity and appeal to their senses without giving them a guilty conscience. Among living plants, 3D-models and thought-provoking texts, they can see, smell and taste their way to new insights on the connections between food and the environment.
Manna goes international
After Manna's succesful tour to various cities in Sweden, including Stockholm, Gothenburg, and Malmö, we have started to seek partners that want to help us bring Manna to an international audience. So far we have shown the exhibition in Washington D.C. and Copenhagen.

Manna exists in two formats: the full version and a mini-version. The full version covers a minimum of 60 m2 whereas the mini-version can be as small as 10 m2. The exhibition requires a light room as it contains living plants. Originally it was shown in a greenhouse but it has been successfully rebuilt in other arenas, including museums. Manna is constructed like a theatre set, so parts of the exhibition are customised for each new location to maintain its artistic quality. This gives a unique and powerful exhibition that is a memorable, thought-provoking, and beautiful experience for the visitor.
Organisers
Manna is a collaborative effort by Albaeco, "Naturens hus" and the Stockholm Resilience Centre, together with the graphic designer, Christine Clifstock, and the construction carpenter, Per Wittsäter.

Albaeco is a non-governmental organisation communicating the latest findings from transdisciplinary environmental research using a well-established network with researchers, and in advertising and the media.
www.albaeco.com

The Stockholm Resilience Centre is a new international centre that advances transdisciplinary research for governance of social-ecological systems with a special emphasis on resilience - the ability to deal with change and continue to develop.
www.stockholmresilience.su.se

Naturens Hus runs a pedagogic unit dealing with nature and the environment at the Bergianska Botanical Garden in Stockholm. It offers a rich selection of activities and courses to schools and develops methods in environmental teaching.
www.bergianska.se/naturenshus.html



Financial support
The bulk of the funding for the exhibition has been kindly provided by Formas, the Swedish Research Council for Environment, Agricultural Sciences and Spatial Planning.
www.formas.se



Contact:
Louise Hård af Segerstad:
+46-8-674 75 12
louise@albaeco.com

Fredrik Moberg:
+46-8-674 76 43
fredrik@albaeco.com